Made to Measure at Adaptor Clothing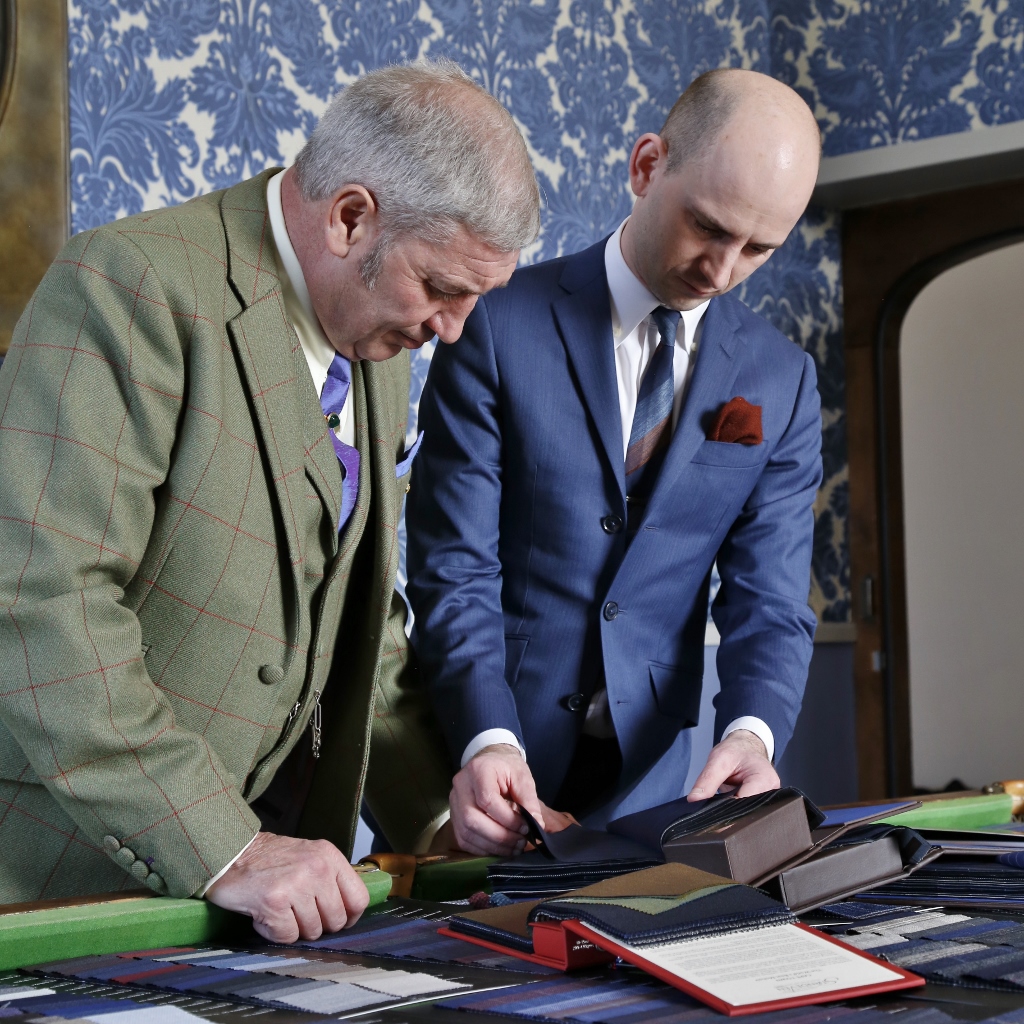 Create Something Unique: Adaptor Clothing's Made to Measure service means you can now create a completely unique suit, jacket or pair of trousers. Your garment will be made to fit you perfectly with your choice of styling details and cloth. You can be as bold, as unusual or as classic as you like; we'll talk you through your options and help you craft the best suit you've ever owned!
Choose your Model: We offer four Single Breasted Options (1 Button, 2 Button, 3 Button and 3Roll2) and a Double Breasted Option (Show-6-Button-3), across five construction types. Additional to your own precise measurements, we offer four fit options on Jackets and Trousers: Skinny, Tailored (Slim), Standard and Relaxed.
Fabrics & Linings: You can choose from over 1750 quality plain, check and stripe fabrics. These include fabrics from top British and Italian mills including Reda, Drago and Barberis. Wools, Mohairs, Cottons, Worsteds, Flannels...you name it, we've got it! We also offer a fantastic range of Premium Two Tone Mohair fabrics. You can choose from more than 150 linings or create your own custom lining. Should you wish to use your own cut-length of suiting fabric, we also offer a Cut, Make & Trim service; We will need at least 4 metres of fabric to make a two-piece suit. *See prices for our Cut-Make-Trim service below.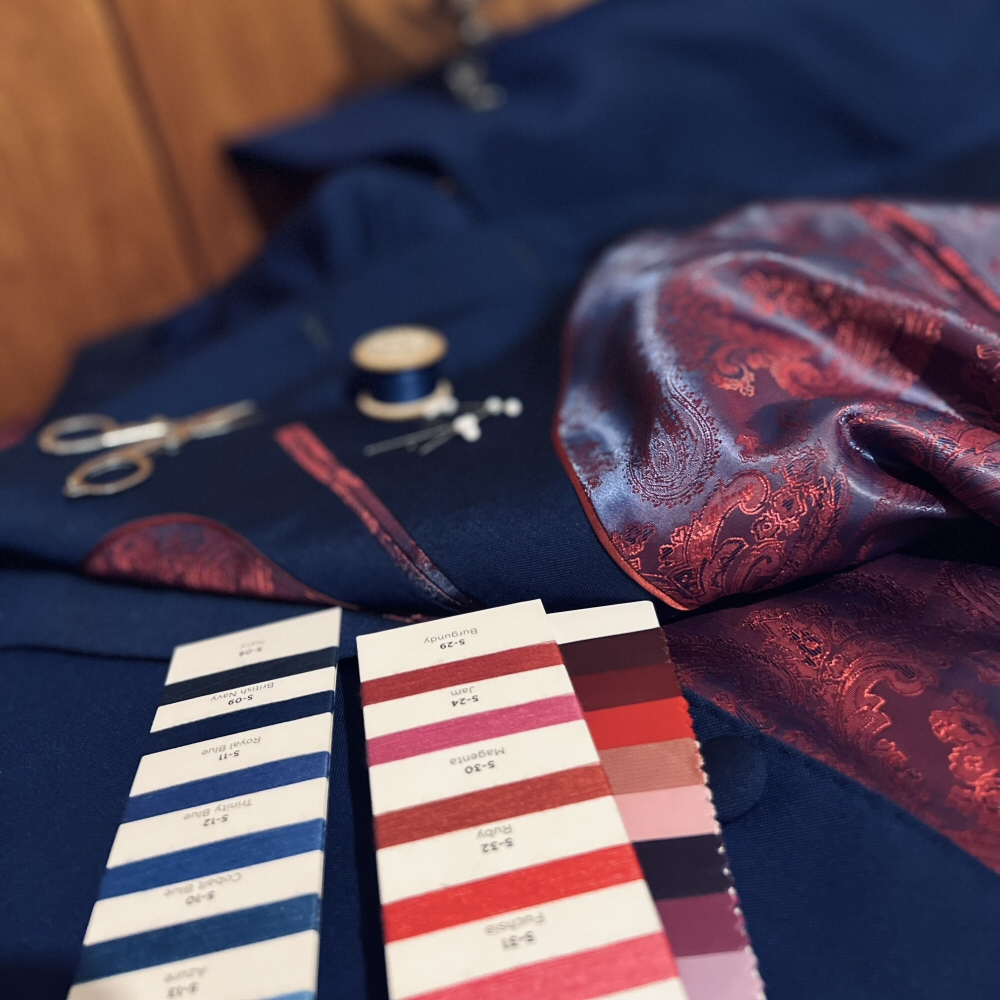 Styling & Details: Literally hundreds of styling options including interior and exterior jacket pocket styles, collar and lapel styles, shoulder shape and padding, cuffs and buttons, jacket lining shape and placement, trouser front and back pocket types, trouser bottoms, trouser waistband and belt loops…the list is extensive! Also choose from over 115 Button colours and styles!
Customisation: Fully customise your garment with a wide range of colours in Threads for construction, Interior Lining Piping, Under Collar Felt and Microsuede for accent detailing (Pocket Jetting, Elbow Patches etc). We can have any special names, dates or messages embroidered inside the jacket on either a label or directly on the lining of the garment.
If you've ever had an Adaptor Clothing suit, or ever visited our old Showroom in Hertford, you'll know that we make a good suit! At Adaptor, combined, we have more than 60 years' experience in designing, producing and fitting formalwear…it's what we do, have done for a long time and do very well! Additionally, like finding the right hair dresser or barber who 'gets it', we at Adaptor Clothing GET IT when it comes to a Mod or Skinhead suit, jacket or trouser. Instead of trying to explain all those crucial styling details and fit to your average high street tailor, we already speak your language and know all the reference points for making you an authentic, yet unique Mod or Skinhead jacket and trouser.
How it Works – Things you need to know about the Made to Measure process at Adaptor Clothing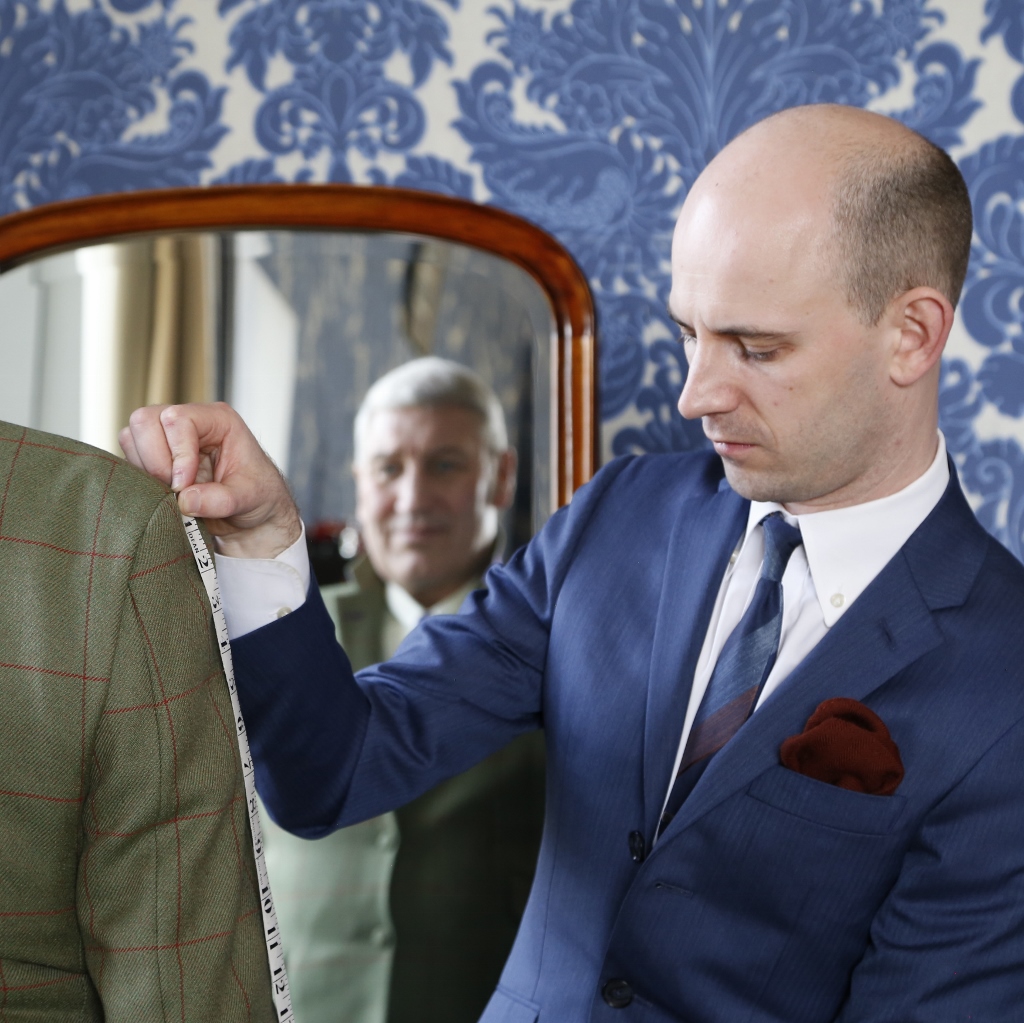 Enquiry Form - Fill out our Made to Measure Enquiry Form HERE. In this form we'll ask you for your contact details, what you would like made, what date you need the garment for and how many of each item are required. We'll also ask at this point about any special requirements or requests. Once you have submitted your Enquiry Form, we will be in touch to discuss your enquiry and arrange an initial consultation.
Lead Time - From the time of your initial consultation/measuring-up session, which will take approx. 2hrs, to having your suit completed, the entire process will take approx. 6-weeks. Five weeks after your initial visit and placing your order, we will invite you to a first fitting once the suit is completed. Should the suit need any additional alteration work done, we will have you back for a final fitting.
Bring your Favourite Suit - Just like on Savile Row, we will ask you to bring along your favourite fitting jacket and trouser. This will enable us to take finished garment measurements to ensure your new jacket and trouser is the best fit you have ever had. We can even replicate your favourite vintage garment!
Try On A 'Master Model' - We appreciate that too much choice can be a bit overwhelming, so we have six sample suits, called 'Master Models' that represent six very particular looks, to help you establish a 'starting point' for your Made to Measure garment. This means you can see, up close and personal, a variety of pockets, cuffs, buttons, jacket linings and trouser bottom options. This will also give you a chance to examine the excellent quality and make of our Made to Measure suits.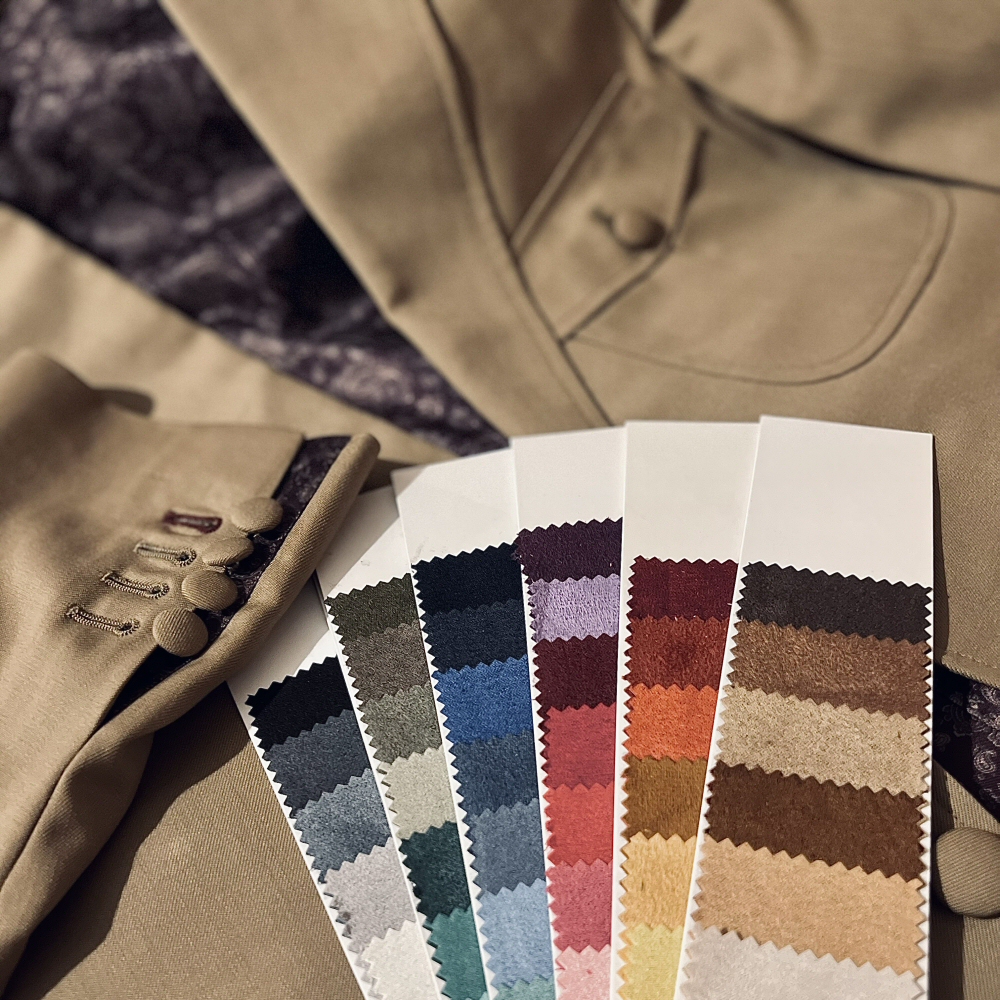 Measuring You Up - At your initial consultation, once we have discussed your Made to Measure preferences, we will take your various measurements. These will be kept in your own Customer Profile, so that should you wish to order from us again, we will already have all the information we need. As well as measurements, we will also discuss the way in which the garment will fit you, taking into consideration your height, shape, stance and posture to ensure a perfectly balanced and flattering fit.
Prices - The price of your Made to Measure garment is dictated by the fabric you choose. A two-piece suit in our Pure New Wools start at £720, a jacket at £600 and a pair of trousers at £230. *The flat fee for a Cut-Make-Trim two-piece suit (using your own fabric) is £785. All and any standard style options are included in the price, so you can be as creative as you like with your Made to Measure garment. Note: The price for a full suit comes in at better value because the jacket and trouser are cut together, ensuring the most cost-efficient use of the fabric. We will take a 50% deposit on the day we measure you, before we begin work on your garment(s). The final payment will be due when you collect your completed garment(s).
NOTE: Although we have hundreds of styling options for you to choose from, there are limitations to what can be done within our service, but we will do our absolute best to accommodate any special requests and requirements. Please do ask! Our Made to Measure is catered to Men Only and is currently only available to our UK customers.
What is the difference between Made to Measure and Bespoke?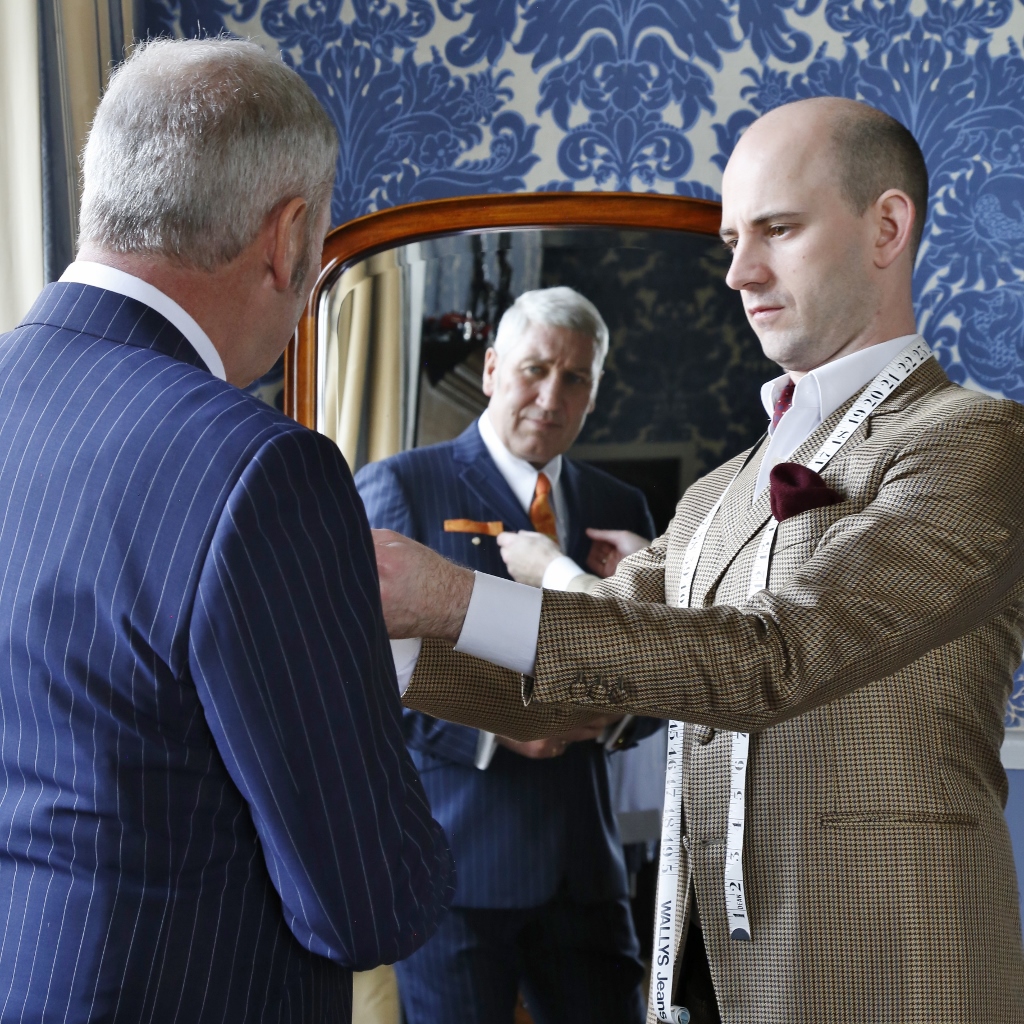 This is a question that we get asked by a lot of our customers, even when offering our own label off-the-peg suits. The fundamental difference is that Made to Measure is a garment that is cut to your measurements with wide range of styling details for you to choose from and can be completed in a relatively short amount of time. Bespoke means that the pattern for a garment is drawn and cut from scratch and is completely custom to your requirements. For this reason, true Bespoke tailoring is VERY expensive, requires several fittings and takes that much longer to complete. Some businesses claim to offer a 'Semi-Bespoke' service. In reality, there is no such thing. A garment is either Bespoke or not Bespoke. Situated between Bespoke tailoring and Off-the-Peg (ready to wear garments) is Made to Measure…this is the service that we offer!
Still want to know more? Get in Touch
Should you have any other questions about our Made to Measure service, please call us on 01992 501616 or email us at info@adaptorclothing.com. You can also fill out our Made to Measure Enquiry Form HERE and we'll get back in touch to answer any of your queries. We look forward to hearing from you!