Style Blog
Welcome to Adaptor Clothing's Style Blog! Here we'll be bringing you articles, outfit ideas, sub-culture history and brief biographies of music's best dressed icons. With entries being added regularly, there'll be plenty to keep you entertained and informed with links and info about our favourite products. Bookmark this page and whenever you've got 5 minutes free, click in and see what's new!
Adaptor Clothing Interviews - The Spitfires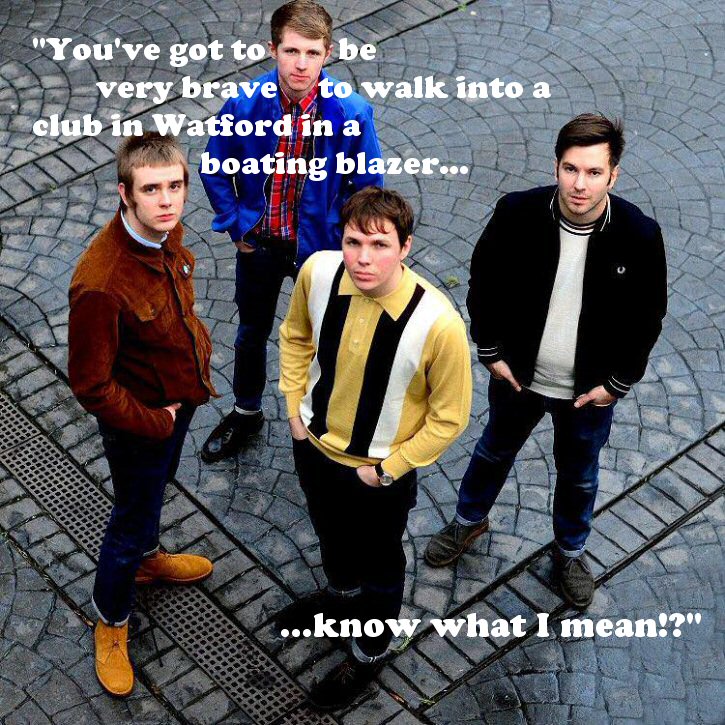 So 2016 is upon us, and with it comes new ideas. On the 'scene', The Spitfires (from Watford) have a loyal and passionate fanbase, but the band are destined for bigger things. 2016 brings the anticipated release of The Spitfires latest album, a follow up from last years critically acclaimed Response. We caught up with Spitfire's frontman Billy Sullivan to ask him about his thoughts on the connection between music and clothing.
So as a band, you definitely have a distinct look, who and what inspires this?
Well, the bands we are into and inspire us had/have the whole package. The songs, the sounds, the look and the message. So in my head we were always going to have a specific look to represent us as a band. Bands like The Jam, The Specials, The Clash and some of the 60s bands like Small Faces and The Who really inspired it.
How has your look changed over the years?
Slighty yes. When we were younger I had an obsession with being extremely smart on stage. However as I've got older I've realised that people my own age couldn't connect to that. You've got to be very brave to walk into a club in Watford in a boating blazer - know what I mean!? So we toned it down a tad, brought it back to say the 'street' side of it.
Would you agree that clothing is very important to a band/musicians? Why?
I can't talk for everyone, but to me its a main element of it. Music for me is about self expression and I think Clothes definitely come into that too. And it goes both ways - the attention to detail with clothes also transcends into our music.
Do you dress different in the band/on stage, to how you do off stage?
No not at all. This is what i'm into. My identity. I don't think I could ever separate myself from it. Nor would I want to.
What do you think is the next big thing in mens fashion?
Hopefully it's having a f**king shave! I'm not sure as I don't pay a lot of attention to 'fashion'. I just like what I like. Simple as that!
Check out The Spitfires Facebook page for 2016 tour dates and news on their new single and album release. Photograph courtesy of Tony Briggs.
#DressForTheBeat - Wear your music taste on your sleeve!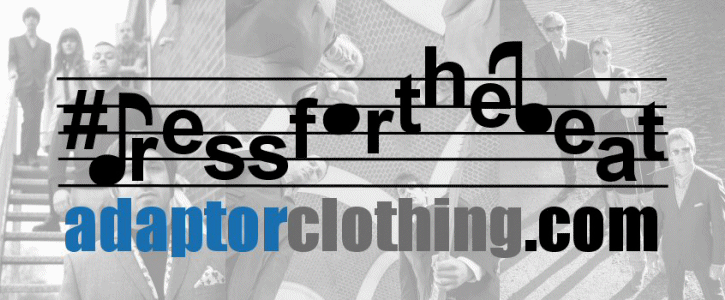 Clothing isn't just something you throw on...it's a statement about who you are, what you stand for and more often than not, what type of music you like. We believe, if you're into music, you live it, breath it...wear it; you wear your music taste on your sleeve. With our #DressForTheBeat campaign we want to promote bands such as The Mynd Set, Heavyball and Samuel S. Parkes, because these guys are as much about their clothes as they are their music, and what great music it is too!
Music and clothing have always been intertwined. The original Jamaican rudeboys wore white socks and listened to ska; In an effort to mirror the original style, the working class rudeboys of '79 wore white socks. They aren't so much rules, as they are uniforms, the subtleties that let those in the know, know what your all about and that you're one of them! But it's also about being individual within these boundries. Each of the three bands we are promoting are very much influenced and inspired by similar things, but they have each curved out their own unique styles within the genre.

In a world of where there are now literally hundreds (if not thousands) of genres and sub-genres of music, many of which do not have a dress code or a look, we feel it is time again to re-establish the undeniable connection between music and dress sense. Be proud to announce your musical preferences with the cut of your trouser, or by length of your collar or the width of your tie; these little details say alot!
Keep the faith and wear your music...#DressForTheBeat
Adaptor Clothing Presents - The Len Price 3: Words Won't Come
Adaptor Clothing proudly present The Len Price 3's latest video, Words Won't Come, exclusively here at adaptorclothing.com.
Adaptor Clothing have been working with the Len Price 3 throughout 2014, providing their outfits, hosting their gig in Hertford earlier this year and sponsoring numerous other shows around the country. The Len Price 3 are an adrenaline pumped pop band from England, forged in the traditions of their Medway Delta roots. Words Won't Come (from the Len Price 3's latest album, Nobody Knows), was shot on location in Hertford, home of Adaptor Clothing, featuring also our Vintage 1967 Daimler V8 and the iconic Mill Bridge Rooms (as seen on our website). The video was shot and edited by the ever impressive Geoff Waugh, with an additional actor's touch provided by Jamie O'Hara (Pub Monkey, 2014). Special thanks also to Micks Barbers of Hertford, who provided the venue for the illicit Scrabble game scenes.
The Words Won't Come video, will be excusively viewable at adaptorclothing.com until Wednesday 24th December, so share the link to this page (available on the Adaptor Clothing Facebook page) with your friends. You can also follow the Len Price 3 on their Facebook page HERE.
Recreating the Look - Style Icon 3: Steve McQueen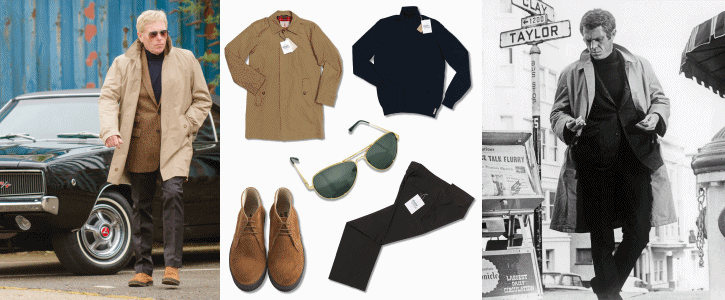 For our second edition of Recreating the Look, to coincide with the publication of our 'Bullitt' boot (Delicious Junction) photo shoot, we're looking at the King of Cool, Mr. Steve McQueen, and more specifically his wardrobe from the classic 1968 film, Bullitt. For our photo shoot, we have tried to recreate the classic 'Ivy League/Hollywood' look of the 1960's, complete with exact replica's of the Dodge Charger and Ford Mustang muscle cars used in the film.
The instantly striking thing about Steve McQueen's dress sense, is that it is so efforless, so relaxed, every item of clothing sits on him just right! This is the first step to mastering his look. Don't try and wear everything too fitted or tapered, buy the size that leaves you with a little extra material, not baggy, but comfortable. The star item here is the 'Bullitt' playboy chukka boots, designed by us in partnership with Delicious Junction. This is THE McQueen shoe!
The second most distinctive piece in this outfit is the Raincoat! McQueen possible opted for one size larger than usual to give that relaxed, off-the-shoulder fit. Bear in mind, it needed to fit over his Rollneck jumper and the shoulder pads of his tweed blazer. Another important detail in mastering that relaxed look is, notice his blazer, just the one button is fastened...this is crucial! Now normally, you wouldn't dress black and navy together, but this outfit is an exception. Having that single jacket button fastened seperates the navy rollneck from the black Trousers, which just hug his legs, not skinny, nor ill fitting. The length of the trouser is important here too. As he is wearing a suede boot, the hem of the trousers can come up a little higher so as to hover just above the shoe. The last item this outfit needs (other than a pistol harness) is the classic aviator Sunglasses, afterall, squinting doesn't lend itself to looking relaxed! These styling tips are funtamentals, apply them to any outfit and you'll ooze effortless style! Click on the Red links in the text to view those products in a new tab.
Lad About Town - Style Icon 2: Paul Weller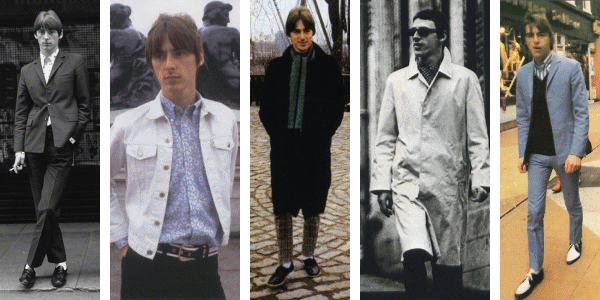 Whether you?re a fan of the Jam's (or Mod Revival) music or not, nobody can deny that Paul Weller earnt his 'Modfather' title by way of his impeccable dress sense and detailed attention and dedication to the mod lifestyle. During the Jam years ('77 to '82), Weller embarked on the same journey of discovery that mods of any generation take. From the striking, yet strictly black suit/white shirt/black tie uniform of the early 60's, to the Mod 'foot soldier' crew neck jumper/Harrington/crew cut style, to his move into the mid 60's pop star/Small Faces/Carnaby St. look, and finally in an effort to become more purist, he reverted back to the modernist/ivy league/jazz style of the late 50's.
...This is the path of many mods; but between '77 and '82, Mr Weller was always two steps ahead. As soon as he mastered the period/look he wanted to represent, he had discovered something new; something nearer to the 'pinnacle' of what every mod tries to be. During these years, he moved from the mono-tonal colours and outfits (reflective of the black and white images of the early 60's) toward the more archetypal colours and patterns (checks and polka dots) of with the mid 60's. Nearer '82, his style became more minimalist, yet sophisticated, with his move toward modernism. The same can be said about the changes in the Jam?s music between '77 and '82. Regardless of what his fans wanted or expected; his dress sense, his music and his philosophies all moved with what he believed Mod was, should and could be!
Much like in its original era, many agree that Mod is an ever evolving lifestyle. Weller was always trying to be more Mod than he was the year before, so change was inevitable, but he was also influenced by 'modern life' in the late 70's and early 80's. Like the Mods of today, whether they're 16 or 65, their interpretation of the 60's youth style will always look current. Weller knew this and embraced it in his clothing. Again, much like his music, his style was mod, but it was also punk; it was new wave; it was contemporary. As Weller once said, Mod is a 'code' by which you can live and dress in the modern world.
A true style icon and a truly modern man.
One Foot in the Past, One Foot in the Future - 2014 at Adaptor Clothing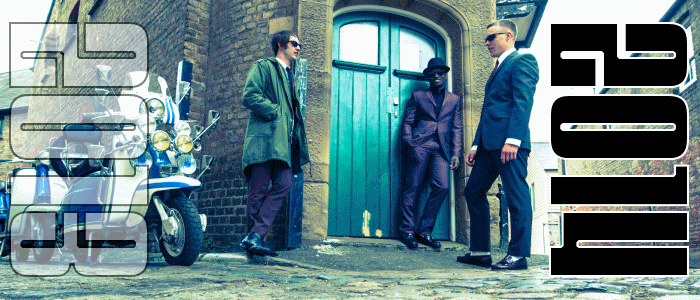 2013 was a fantastic year for Adaptor Clothing. We launched of our first season of Own Label suits, shirts, trousers, harringtons and Adaptor Exclusive footwear produced by Delicious Junction, launched our NEW website in November, added 8 new top brands to our stable (Bass, Britac, Burlington, David Watts, Loake, Madcap, Rothco and Warrior), sponsored our first online radio show 'Modifications' and earnt over 1000 more of your likes on Facebook.
Having said all that, we're not a brand to rest on our laurels...we've got loads planned for 2014! We've just last week launched our biggest ever SALE with 40% off over 200 product lines, but it won't be long before loads of new Spring/Summer 14 stock starts pouring in...including our very own label Mohair suits in 5 new colours!! We also have plans to introduce loads more fantastic items to our own label range over the next 12 months. We're also expecting to take our first deliveries of a couple of huge NEW brands for Autumn/Winter 2014; sneak peeks and details to follow!
For the Spring, we're planning a 'Lazy Sunday' event, with exclusive offers in our showroom, plus a free lunch at the Dog and Whistle pub here in the centre of Hertford, with live bands, DJs and loads of scooters! It's top secret at the moment, but we're also backing an amazing up and coming band, helping them to promote their new album release and UK/American tours; details to follow very soon! And finally, if you haven?t already, make sure you like us on Facebook too, as we'll be running a series of Facebook competitions with some great prizes up for grabs!
Behind The Brand - Mikkel Rude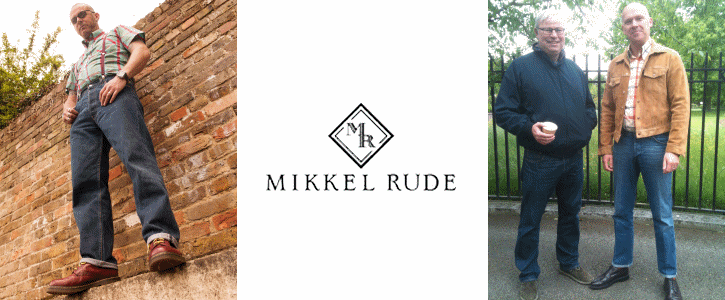 Being a Skinhead, Suedehead or Smoothie is not just all about bomber jackets, boots and braces. While they are staple parts of the Skinhead style, the best dressed on the scene aren't remiss to a silk scarf, fine wool cardigan or raincoat; and nobody understands that better than Mikkel Rude himself. Mikkel (above right with Adaptor boss Phil) believes there still exists, a core of meticulously dressed, style conscious Skinheads that appreciate quality fabrics, attention to detail and the true value of a great garment. Mikkel has spent years designing and sourcing authentic check materials for his shirts and using only the finest wool materials for his cardigans and slip-overs.
Mikkel's shirts are statement pieces, produced in limited numbers and all cut with his signature 4" button down collar. Skinheads equally appreciate a long sleeve oxford or gingham shirt with rolled up cuffs, just as much as a notched short sleeve shirt. The colours in Mikkel's shirts are also designed to inspire and challenge the wearer into experimenting with their outfits?just wearing a great shirt is nowhere nearly as important as knowing how to dress it; that's the true sign of a well-dressed Skinhead. Check out our Mikkel Rude page for more brand history and to view our full range of Mikkel shirts and knitwear.
Recreating the Look - Style Icon 1: Lynval Golding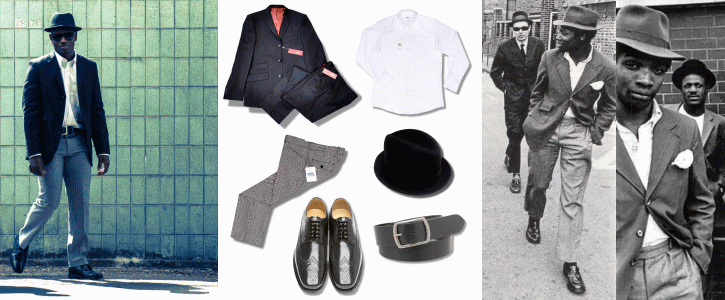 We open our Recreating the Look series with style icon and music legend, Lynval Golding. Few would argue that the Specials' rhythm guitarist was one of the best dressed faces of the 2Tone Ska revival. Although the images on the right were taken around 1979, you could easily believe it was 1963! Lynval has nailed the classic Rudeboy look! For that reason we dressed our model Felix (left) in that very outfit. But this timeless look doesn't have to end there; you too can dress like an original Rudeboy...
The key to this look is knowing how, when and where to mix plain items with patterned materials. Lynval looks super fresh in his button down White Oxford Shirt, but the genius in his outfit is the mismatched trouser and jacket combination. As Lynval's and Felix's outfits are, for the most part, made up of plain block tones, there's no risk in throwing on a pair of Dogtooth Trousers, with a plain Black Suit Jacket.
Colour coordination is always important, particularly when it comes to footwear and accessories. If your belt is visible, try and match it with the colour of your shoes. If your belt is not visible or is the same colour as your trousers, try and match your shoes with a tie, pocket square or handkerchief. Here we dressed Felix in Black Brogues, a plain Black Belt and threw on a plain Black Trilby to top it all off. Also with this particular oufit, White Socks would tie in perfectly with the crisp white shirt. Click on the Red links in the text to view those products in a new tab.
Capturing Subculture: Lifestyle Photography
With the recent launch of our new website, we unveiled dozens of inspirational and faithfully styled Mod, Skinhead, Rudeboy and Scooterist lifestyle shots. With these 4 subcultures to shoot, we settled on four models, all guys from the scene, and four locations all within our home town of Hertford! With outfits carefully planned weeks before, all we needed now was someone to capture our authentically styled models in the evocative locations.
We commissioned local professional photographer Geoff Waugh to get the shots that would encapsulate coolness, attitude and sophistication. In just six hours, we shot well over 1000 images. These photos ultimately formed the look and feel of our new website and can be found on various pages of this site and on our Facebook page. Keep an eye on our Style Blog, as every now and then, we'll treat you to more of these timeless and undeniably cool images.
Sportswear in Mod Fashion - Part 1: Bowling Shoes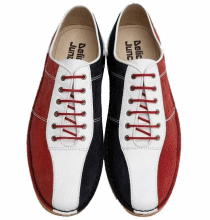 Bowling was the social sport of the day and was hugely popular with the youth of Britain in the 60's because of its Americana appeal. Contrary to Mod's distinctly British identity, most kids in late 50's/early 60's Britain wanted to live the Rock'n'Roll, Consumerist and Glamorous lifestyles of their American counterparts. Bowling was a huge part of that social landscape. But how and why did the Bowling Shoe become one of the staple footwear choices of the mods?
The answer may lie, as it so often does in modern life, with the pop and celebrity stars of the day. Numerous promo and press shots can be found of pop stars such as Steve Marriott, the Zombies, Lulu and the Luvvers, just to name a few, hurling a ball (and seemingly themselves) down various bowling alleys wearing the iconic leather bowling shoes. Just like today, it only takes a few people to pick up on these subtle details and turn them into fashion statements and, like so many trends in the 60's, spread like wildfire through clubs, parties and social gatherings. And when you think of it, what better shoe is there for dancing in; a shoe that is designed around its ability to glide along polished wooden surfaces!
Fancied getting your hands on a pair, all you had to do was wear a pair of shabby old kicks down to the bowling alley, play a few frames, and then not return the rented shoes at the end of the game. The bowling shoe was later solidified as an iconic mod shoe during the '79 Mod revival, with again, the pops stars associated with the new mod scene, such as Paul Weller, reflecting the casual fashions of the mid-sixties. The bowling shoe is available today in many shapes and colours, exploring and reflecting the iconography, imagery and colour schemes so closely associated with mod culture, designed specifically to catch the eye of the discerning mod.
Check out our range here: Bowling Shoes